C++ Sample Project using Solid Framework SDK
Nelson, New Zealand—7 March, 2016—Solid Documents, a leading developer of document reconstruction and archiving software, today announced Solid Framework SDK C++ support for native applications.
With Solid Framework C++ SDK you can integrate the same PDF to Word technology used in Adobe® Acrobat® into your product for as little as a 10 MB increase in your installer size.
These C++ sample applications are available as ready-to-build Visual Studio projects and also as ready-to-run downloadable MSI installers. In both cases the samples work with developer licenses that you can generate using our self-service Developer Portal. In addition, the ready-to-run samples will also work with regular Solid PDF Tools desktop licenses (contact sales@soliddocuments.com for a reviewer license).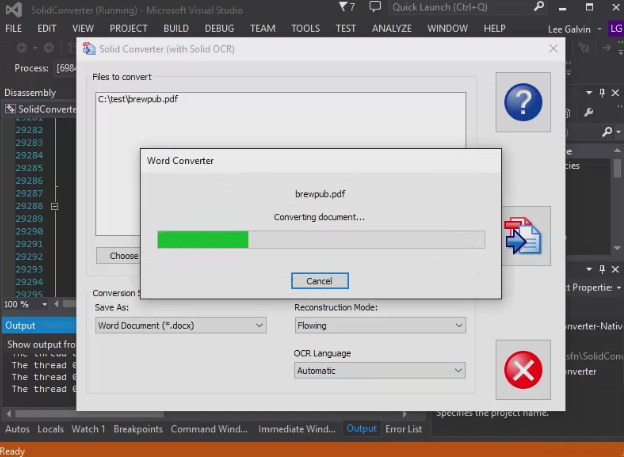 C++ sample is on our SDK documentation page along with other sample projects to get you going.
Pricing, requirements and availability
Solid Framework comes in two editions: a tools version and a professional version and is immediately available for download. Pricing for internal use of the professional version of the SDK starts at $1500/year. Licensing is also available for public redistribution. Licensing, distribution and product feature information is available at: http://www.solidframework.net/
About Solid Documents:
Solid Documents is a leading developer of document reconstruction and archiving software. Hundreds of thousands of users and corporations around the globe have used its solutions to share, reconstruct and archive many types of documents including: legal documents, manuals, financial records, and more. Most often the converted document is easier to work with and in many cases better than the original. Solid Documents is customer focused and offers unlimited complimentary e-mail support to all registered customers. The company is privately held and headquartered in Nelson, New Zealand and can be found at www.soliddocuments.com/.