Archive Using PDF/A
Create PDF/A-1b Fully Compliant Documents
PDF/A is a definition for electronic documents that ensures that files can be viewed that exact same way in the future. PDF/A files must be 100% self-contained and include all content in the file (text, images, fonts and color information.)
Archiefindeling PDF/A
Archiveren met behulp van PDF/A. Maak PDF/A-documenten die volledig in overeenstemming zijn met de ISO-archiveringsnormen.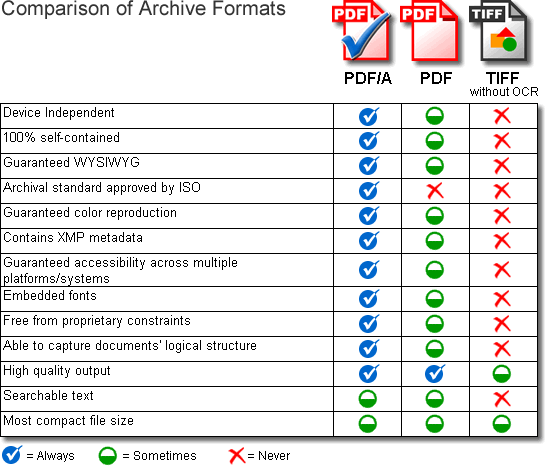 | | |
| --- | --- |
| PDF/A Competence Center | |
Solid Documents is a member of the growing PDF/A Competence Center Group. The PDF/A Competence Center is a cooperation between numerous world-leading companies and experts in the PDF technology field. The aim of the Competence Center is to promote the exchange of information and experience in the area of long-term document archiving in accordance with the ISO 19005-1 standard, based on the PDF file format. We look forward to working with its members for adherence with this ISO standard in order to guarantee a high level of quality in our PDF/A creation software.

For more information about the PDF Competence Center, visit PDF Competence Center.