Produtos de Desktop :

Automação de Processos :

Desenvolvimento de Software:
Solid Framework - Amostra de Código
Estes são exemplos precisos que demonstram características chaves de Solid Framework. Os exemplos foram testados com o download experimental de Solid Framework usando diferentes versões do Microsoft Visual Studio. Para ver instruções específicas de cada versão:

Para uma licensa Solid Framework Experimental por favor contacte
Control access to PDF files with permissions
Using the Solid Framework Permissions property
From the SolidFramework.Pdf.PdfDocument object you can access the Permissions property.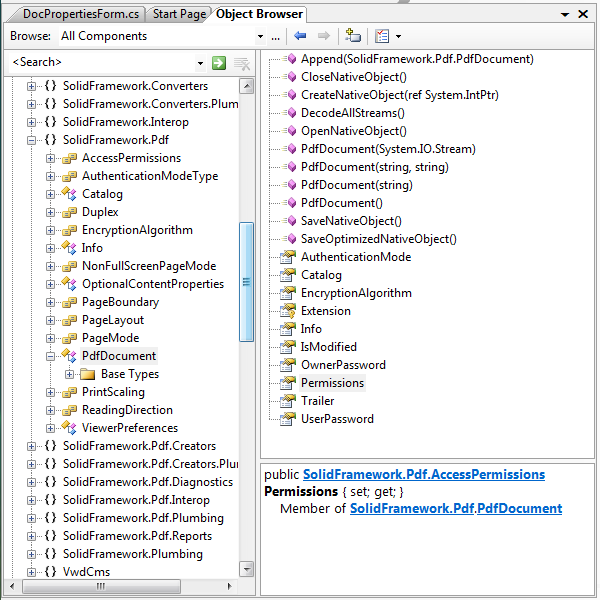 The value of Permissions can have any of the following enum values set: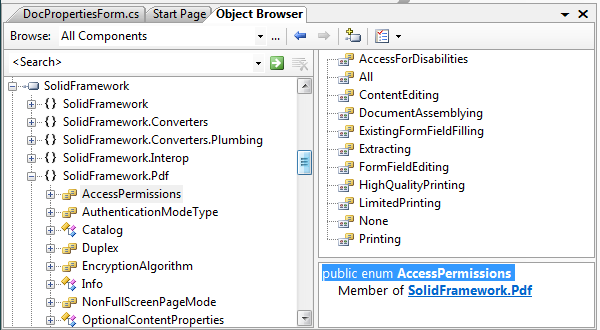 Each of the enum bit values has the following meaning in the document:
AccessForDisabilities - Extract text and graphics to support accessibility of users with disabilities or for other purposes.

ContentEditing - Modify the contents of the document by operations other than those controlled by FormFieldEditing, ExistingFormFieldFilling, and DocumentAssemblying.

DocumentAssemblying - Insert, rotate, or delete pages and create bookmarks or thumbnail images.

ExistingFormFieldFilling - Fill in existing interactive form fields (including signature fields), even if FormFieldEditing is clear.

Extraction - Copy or otherwise extract text and graphics from the document, including extracting text and graphics.

FormFieldEditing - Add or modify text annotations, fill in interactive form fields, and if ContentEditing is also set, create or modify interactive form fields.

HighQualityPrinting - Print the document to a representation from which a faithful digital copy of the PDF content could be generated.

LimitedPrinting - Print the document (possibly not at the highest quality level, depending on whether HighQualityPrinting is also set).

Printing - Set LimitedPrinting and HighQualityPrinting.

All - All of the above permissions are set.

None - No permissions are set.

This sample can be downloaded and installed as-is with a Solid PDF Tools v9 unlock code to quickly review the functionality. If you do not have a Solid PDF Tools license please contact .
Download the installer (68MB)

In addition, the source code for this sample is provided so that it can be explored as a reference implementation, built and run. If you build it yourself, it will not work with Solid PDF Tools v9 unlock codes and will require a per-machine developer license from the developer portal. (self-service).

Download the SolidConverter-Jobs Processor Sample (219KB)
Using Solid Framework JobProcessor with Visual Studio 2013 - .NET Sample
Create a free portal account, download theSolid Framework .NET for Windows SDK and generate a Developer SDK license
:
Download the SolidConverter-Jobs Processor Sample (261KB). Navigate to where you have saved the sample and open the SolidConverter.sln project.
:
Add SolidFramework.dll as a reference to the project.
:
To build this sample as x64 (64-bit) only - download the x64 (64-bit) SolidFramework.dll or choose x64 in Solution Platforms with AnyCPU (x86 and x64) SolidFramework.dll.
:
Right click on the project and choose Rebuild.
:
Hit F5to run the project.
:
When the form loads, click on the large "Question Mark" then select Unlock.
:
Enter in your license details from your Soild Framework license. Then you are able to use the sample to convert PDF files. NOTE if you don't unlock the product it will fail with a invalid license error.: